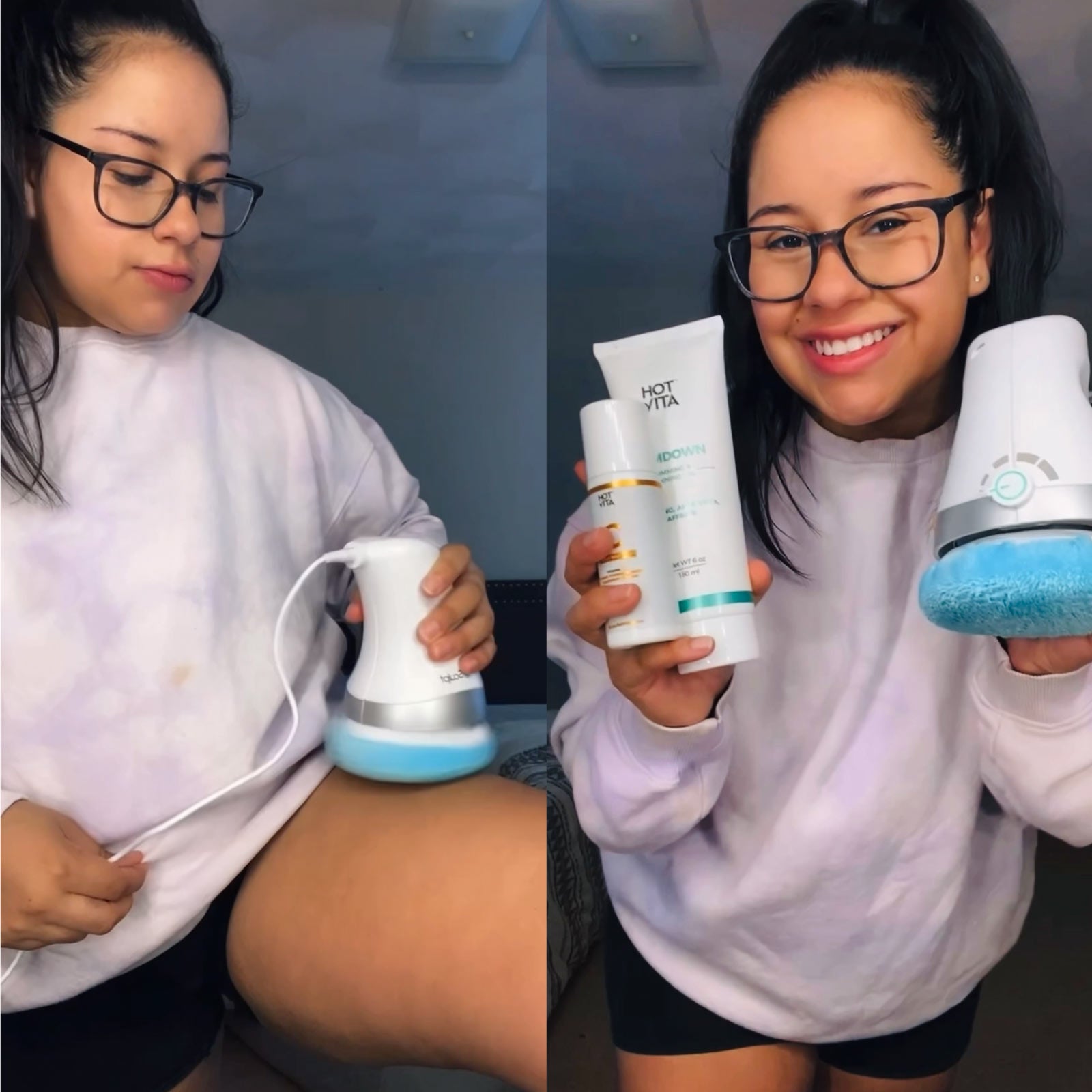 Getting into shape and living a healthier lifestyle can FINALLY be easier than people think.
Who said you couldn't get the same sculpting benefits from home than as going to the gym?
So, let's take it back to steps and kick it into the Vibro Sculpt reality.
3 months ago, Julie was trying to find the best way to get rid of stretch marks
"As a mom of three kids...stretch marks...they're there."
So, she needed a way to improve her skin elasticity after pregnancy
Little did she know that Vibro Sculpt was gonna be her new bestie for the restie.
Pretty much Vibro Sculpt is a body sculpting massager that sends in soothing/smoothing vibrations waves onto the surface of your skin, which promotes all around better skin appearance
In other words, VibroSculpt:
Sculpts Figure
Improves Skin Elasticity
Increases Circulation
Tightens Skin
Illuminates Skin Brilliance
It's an all-in-one powerful massager that's made to benefit/target all the stubborn areas you have in your body.
So, this is what Julie did you take her body from
THIS
TO THIS
These vibrosculpt before and after results are INSANE!
"It has literally changed my life.I'm a mom of three kids and stretch marks are my #1 insecurity, but Vibro Sculpt has helped my stomach in the way my stretch marks look and feel"
"This literally works! Before I started you can see the amount of stretch marks and how intense they were. The results I've seen every month have changed and just made me feel better as an individual. I'm obsessed with it. You NEED it!"
How she used it & what she complemented it with:
Used it at least once a day since DAY 1 for 15 mins PER target area
Used Slimdown Gel + Vitamin C Oil for better results
Began exercising more
Started eating cleaner
Slimdown Gel:
Slims Body
Helps Tone Skin
Firms Figure
Vitamin C oil benefits for skin:
Brightens Skin & Improves Radiance
Improves Skin Appearance
Helps tighten and firm belly
Julie's final thoughts:
"I'm not stopping any time soon using but its honestly changed the way I look at myself"
All we gotta say about our babe Julie is that she SLAYED every part of her VibroSculpt journey!
Want more inspo? Take a peek at our Vibro babes transformation